Auto Accident Injury or Sports Injury? James Chiropractic Offers Relief for St. Peters Headaches
If you're one of the many people in St. Peters who suffers from headaches or intense migraines, whiplash from an auto accident injury, or neck pain, you know these conditions affect your ability to enjoy life and limit yoru ability to do everything you want to do, even everyday activities. Those looking for relief can look to James Chiropractic as a pain relief resource and chiropractic care. At James Chiropractic, we offer a variety of treatments that can reduce your pain and allow you to get back to enjoying life's many pleasures.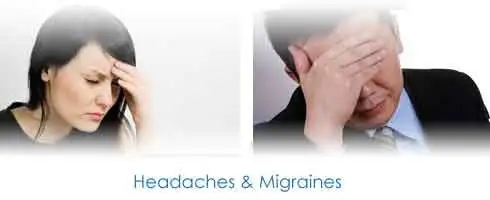 St. Peters Chiropractor Treates Tension Headaches, Migraines, and Cluster Headaches
Although headaches can be due to a variety of causes, the most common types are tension and migraine. They can vary in intensity and duration and will affect your ability to function in an effective and positive way. Tension headaches are the most common, often described as a dull, achy feeling on one or both sides of the head. They can be the result of stress or poor posture. Migraines are intense and throbbing episodes that often include nausea and sensitivity to light or noise. Another type of less-common headache occurs in clusters, which may occur one to four times per day and tend to strike more often at night.

Pain Relief for St. Peters Whiplash, Neck Pain and Back Pain Sufferers
Another source of headache pain, neck pain and stiffness can be caused by whiplash. Whiplash is typically caused by a car accident, sports injury or other violent collision. If the pain and swelling associated with this injury are not treated properly shortly after the initial event, patients can experience continuing headache pain and neck problems. If you've been in an accident, which resulted in whiplash, our St. Peters chiropractor will examine you closely to determine the full extent of your injury. He may then use ice to reduce swelling and Active Release Technique (ART) to reduce headache pain and restore flexibility.

Patients who do not tolerate prescription medications well or those who are pregnant and concerned about the effects of medication on their baby often turn to our clinic for help. Our St. Peters chiropractor, Dr. James is experienced in helping to relieve the symptoms associated with headache pain through a variety of treatments, including realignment and acupuncture. Today's correction methods are even safer, more comfortable and more effective than ever before. Dr. James may gently manipulate your upper neck and spine to provide long-lasting relief without the side effects of prescription drugs or other remedies. Medical research has also found that acupuncture treatments can often provide patients who suffer from chronic and painful tension, migraine or cluster headaches with an effective and natural treatment for their pain.

There are over 200 types of headache pain with causes ranging from harmless to life-threatening. It may be an isolated event or occur in combination with other pain, such as neck pain and back pain or sports injury, leading to an overall feeling of discomfort. Chiropractic care and a healthy lifestyle may help to reduce your incidents of headache pain. Dr. Quinn James and our St. Peters clinic can provide relief from your headache pain by determining the triggers or cause of your headaches and working with you to develop a treatment plan and a prevention strategy.

Call us at 636-441-9240 today.