Sports Injury? Call Our St. Peters Chiropractor!

If you or anyone in your family enjoys the active lifestyle in St. Peters, then you probably have some idea of how quickly a sports injury can take away that enjoyment. Back pain, tendonitis and arthritic joints can put you out of the game for good -- unless you have a skilled chiropractor who can treat that sports injury with the natural, non-invasive and drug-free methods known as chiropractic adjustment. At James Chiropractic, we want to be the St. Peters chiropractor you turn to when having fun hurts.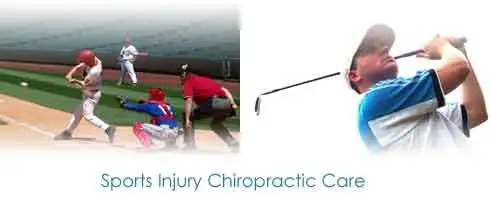 Staying active does a body good, but sometimes it can also wear a body down. The human spinal column and the joints of the limbs can take quite a pounding when applied to sports activities. The resulting injuries may be acute as in a football player getting whiplash from a vicious tackle or a twist of the face mask. But, they can also develop gradually from awkward body positions or repetitive stress. A bicycle with the wrong handlebar height or frame size, for instance, can lead to shoulder or neck pain in a cyclist. A runner with a spinal misalignment can eventually develop uneven wear and subsequent hip, knee or back pain.

Certain sports injuries are naturally associated with particular sports. You have undoubtedly heard of tennis elbow. While this tendonitis of the elbow joint occurs as a result of continuous stress on the joint from wielding a tennis racket, other kinds of repetitive stress can cause the same injury. The same is true for plantar fasciitis. Plantar fasciitis afflicts the soft tissues that join the heel bone to the front of the foot, a part of the body known as the plantar fascia. A common condition among joggers, sprinters and marathoners, it can make walking painful for anyone carrying excess weight or receiving poor support from their footwear. Neck pain, whiplash, slipped discs and pinched nerves -- all these conditions, and many more, including headaches & migraines can occur in the supermarket parking lot as well as on the playing field.


St. Peters Sports Injury Solution: Chiropractic Care
How do our chiropractic treatment methods get you back in the game? Our St. Peters chiropractor, Dr. James, understands exactly how joint misalignments can irritate nerves and impede healing of damaged muscle tissue. We know how to correct subluxations, or spinal misalignments, to help stop the progression of chronic sports injuries.
We can relieve back pain by taking the stress off of herniated or damaged discs so your spine can heal itself from that ugly spill on the basketball court. And, our ability to help you recover from back pain or other sports injuries does not end with chiropractic care and adjustments We use a combination of adjustment, acupuncture, physiotherapy and a customized program of stretching and strengthening exercises to help you get your body back into competitive form and keep it that way season after season.

Stop hurting and get back to enjoying the sporting life in St. Peters. Contact us today at 636-441-9240!